Tʜᴇ Sᴍᴀʟʟ Tᴏᴡɴ Cᴏʟʟᴇᴄᴛɪᴏɴ
We are excited to introduce our newest collection for pretend play. Perfect for Indoor Playgrounds, Play Cafe's, Schools, and Museums.
Tʜᴇ Sᴍᴀʟʟ Tᴏᴡɴ Cᴏʟʟᴇᴄᴛɪᴏɴ features a wide variety of small businesses offered in three sizes. These adorable single story structures are a great option for our small business owners that rent their space and need to be able to easily pack up and move their Sᴍᴀʟʟ Tᴏᴡɴ to a new location.
Many fun new structures available for purchase and made to order.
Interested in getting on the wait list for Tʜᴇ Sᴍᴀʟʟ Tᴏᴡɴ Cᴏʟʟᴇᴄᴛɪᴏɴ?
Our indoor playhouses were designed keeping parents in mind, made to blend with the beauty of your home, not to be an eyesore. Compact space savers build-up-vertically not out-horizontally perfect for your playroom or child's bedroom.
Let us help you create any theme you and your littles can dream up.
 Visit customized playhouse to view options.
Made to last generations with very high end heavy wood for your kids rough play and safety.
Strong interlock design makes for easy assembly. 
All Corners are rounded for extra safety.
All houses come as a blank canvas for you to decorate with your kids dreams in mind.
Not into decorating? Let our design team take care of that for you. Have fun filling out our custom playhouse design form so we can make you and your little one's dreams come true.
All products are made to order. Please contact us if needing a special time frame.
Rise Up Designz - Collections
We look forward to working with you and bringing your vision to life. Should you have any additional questions or require further assistance, please don't hesitate to reach out to us via email. Thank you again for choosing Rise Up Designz!
Dimensions

47" W x 47 1/2" D x 72" H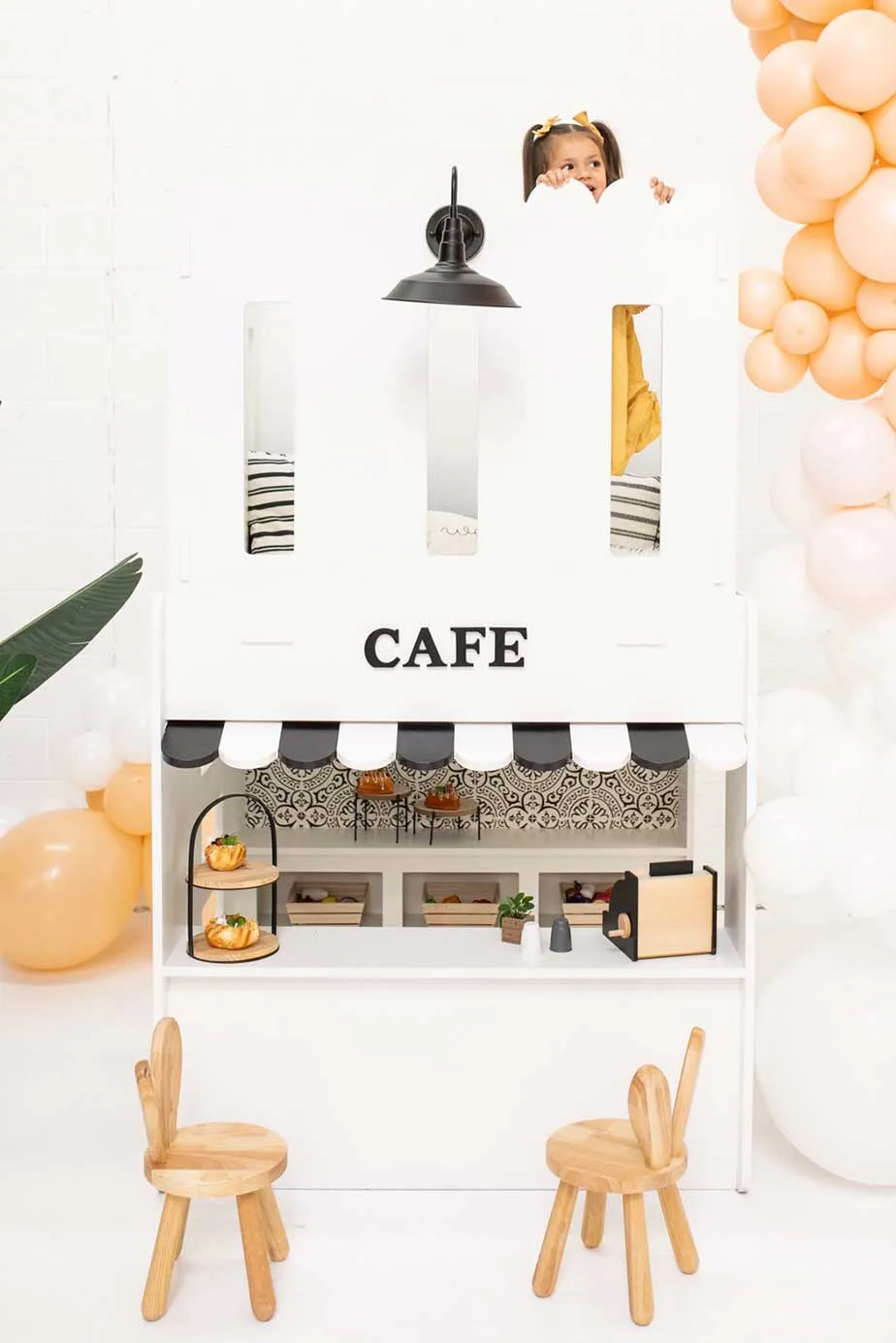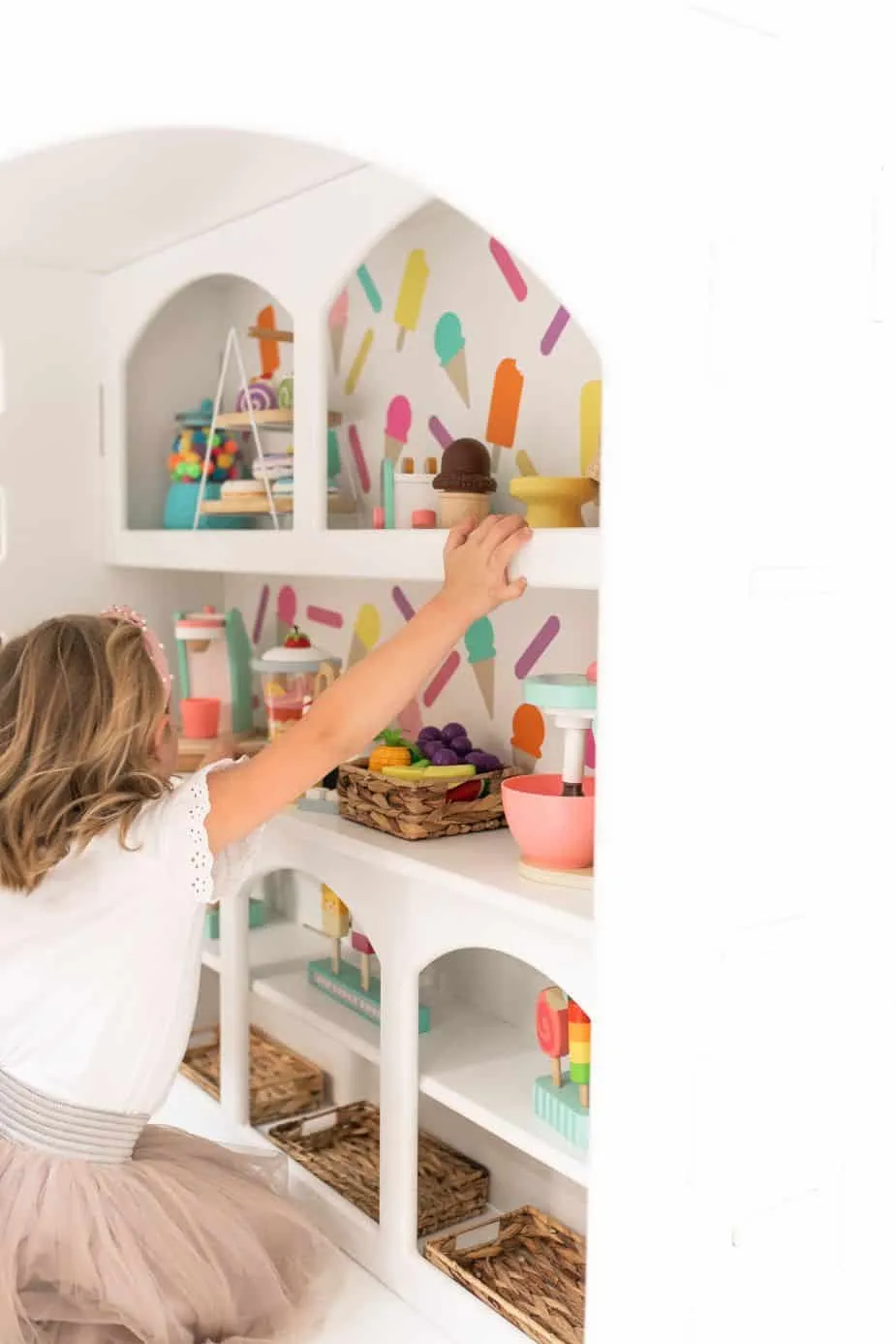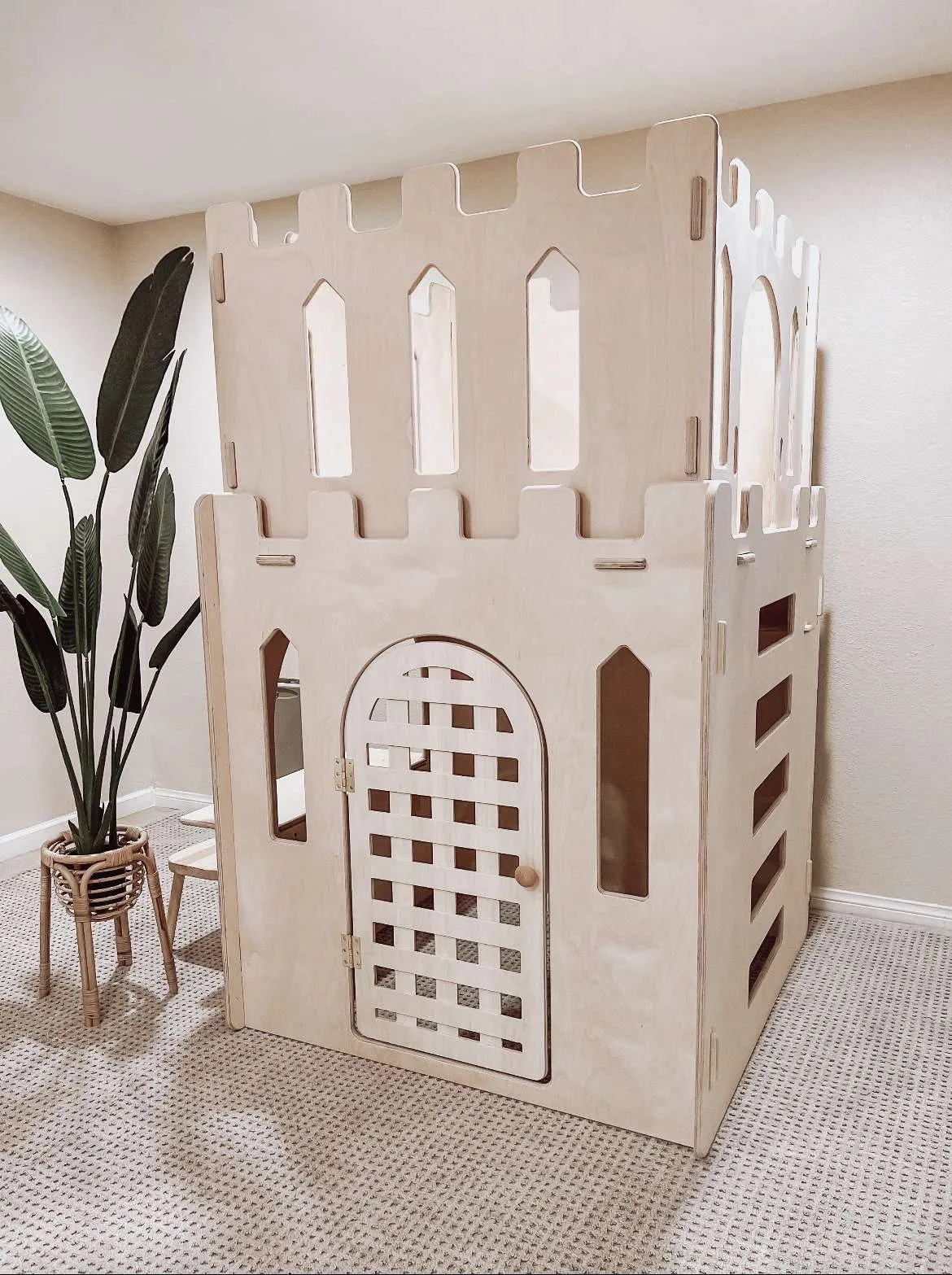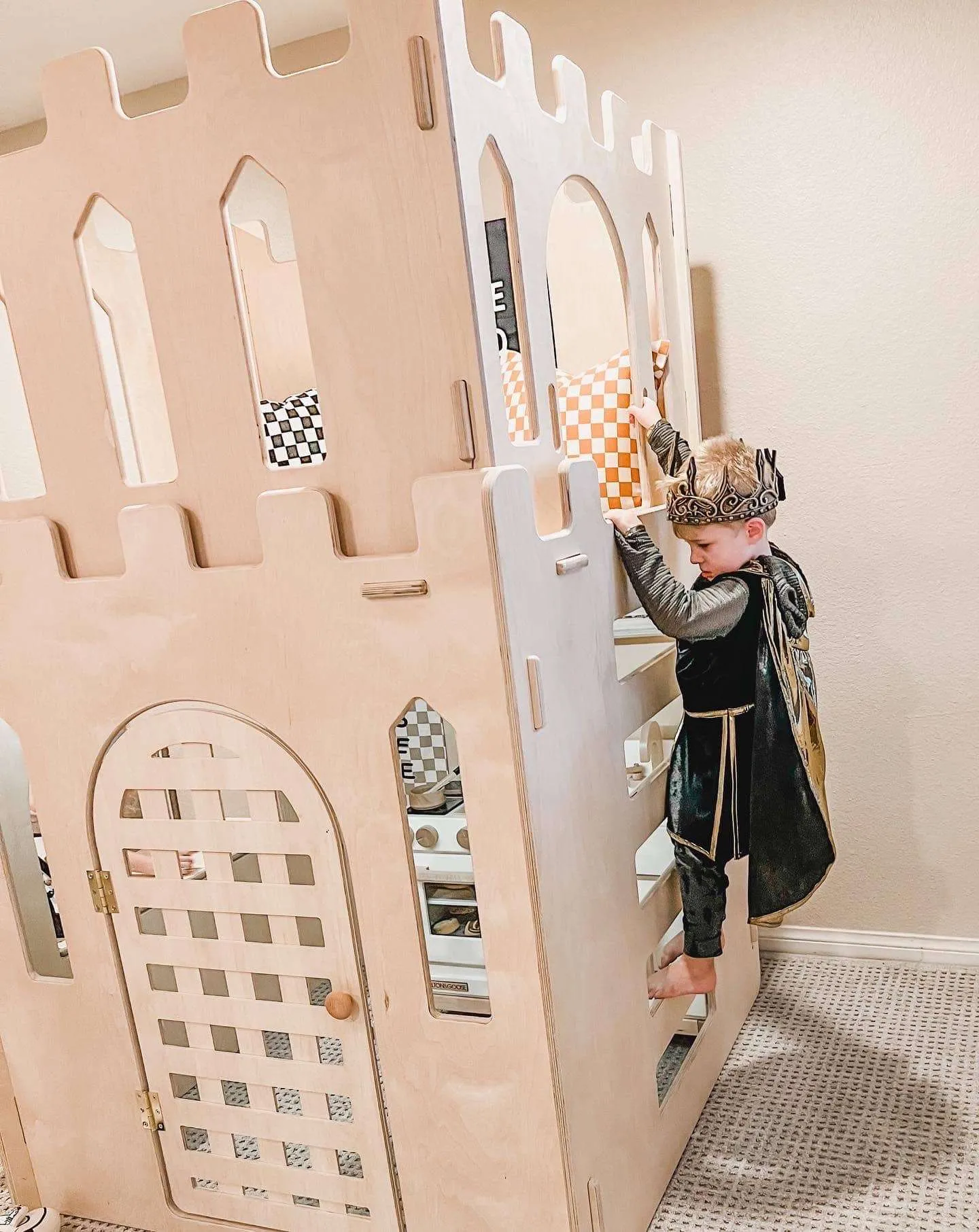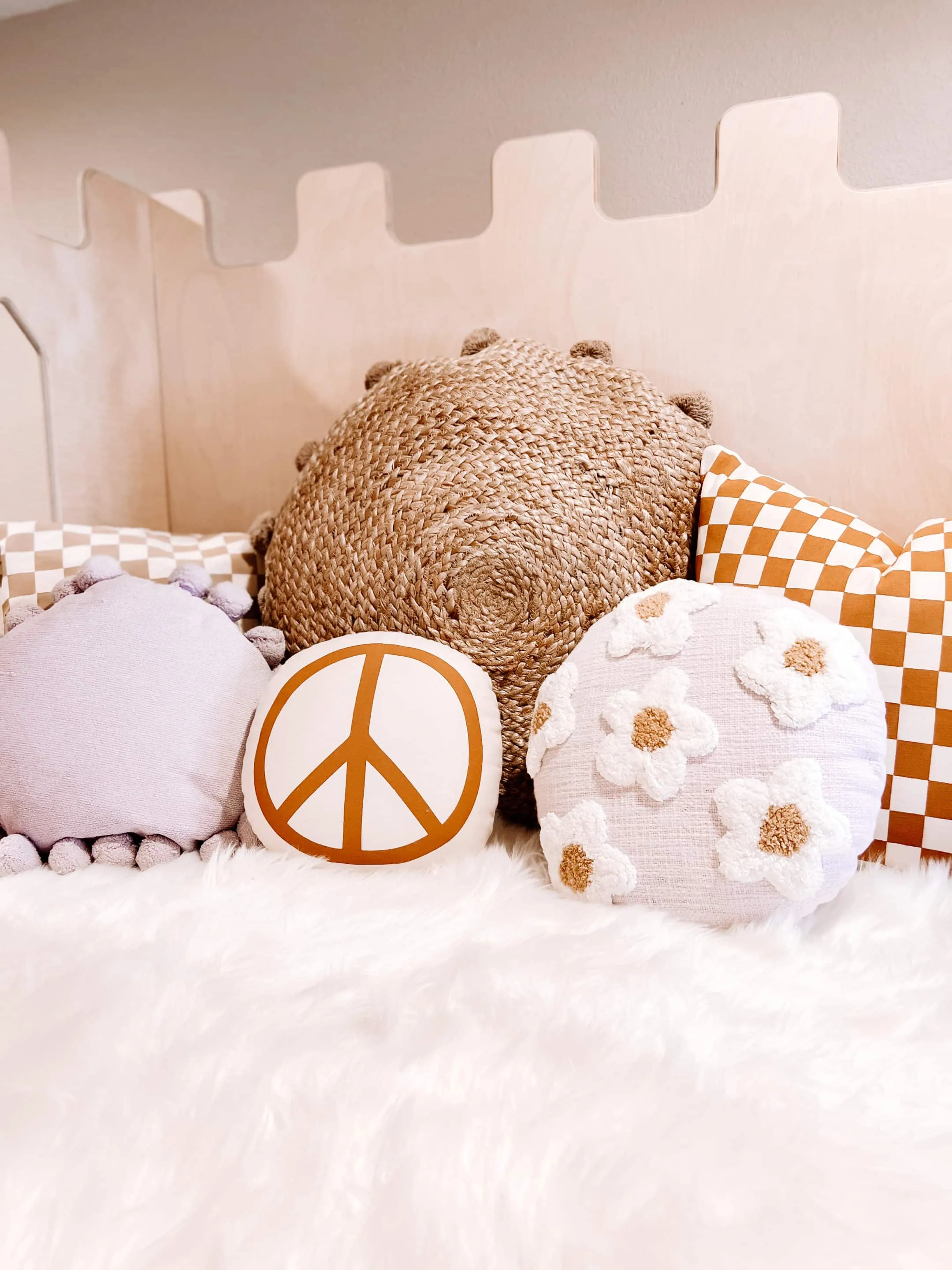 Dimensions
47" W x 47 1/2" D x 72" H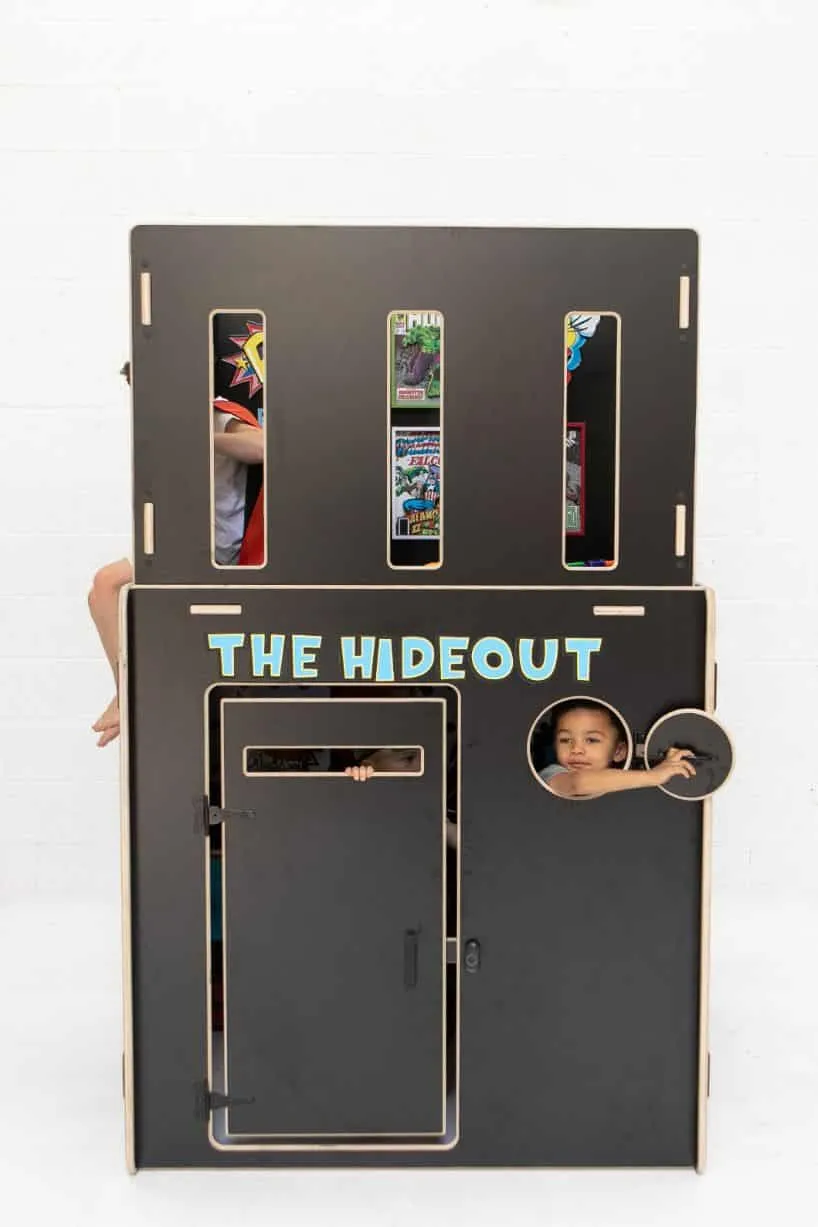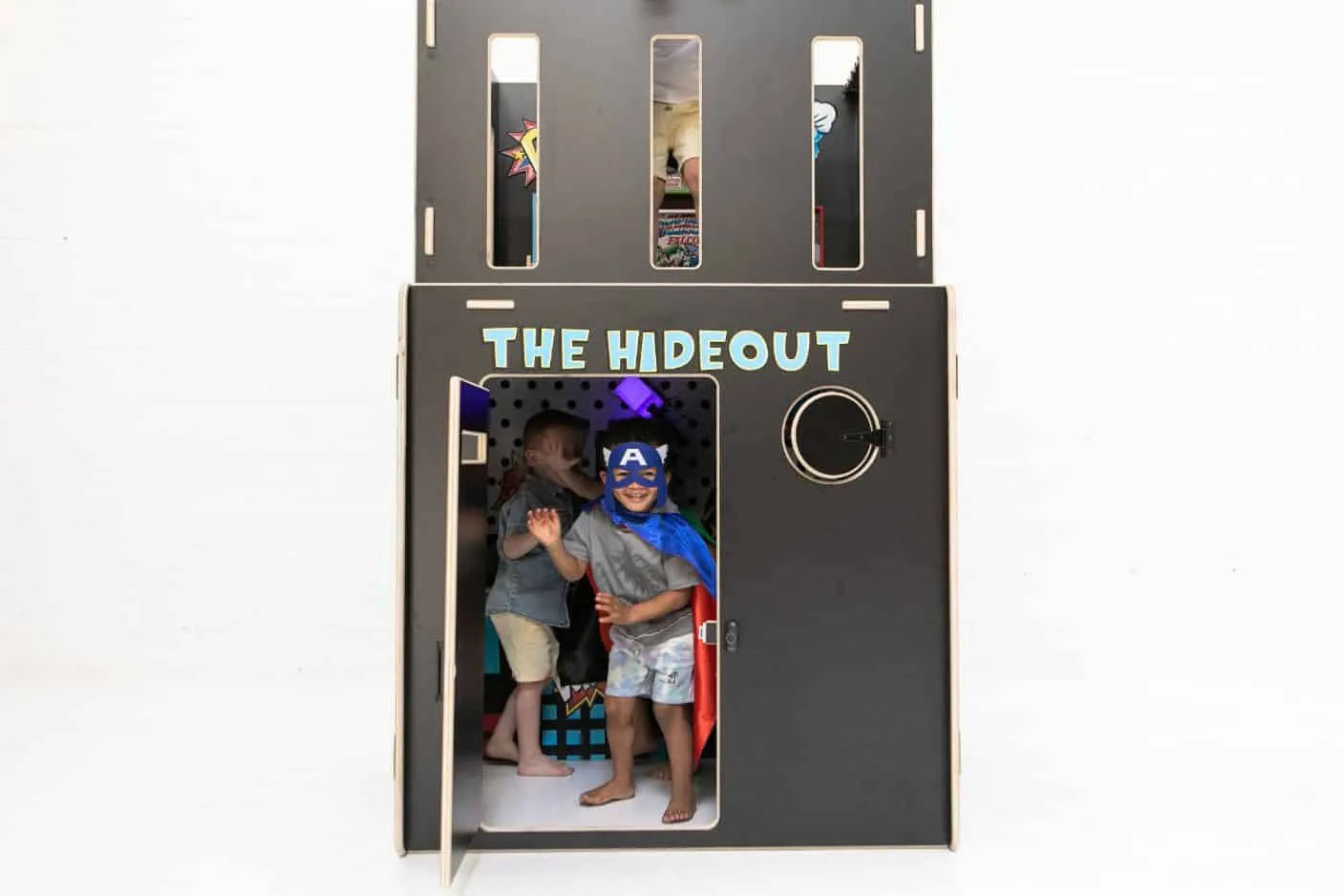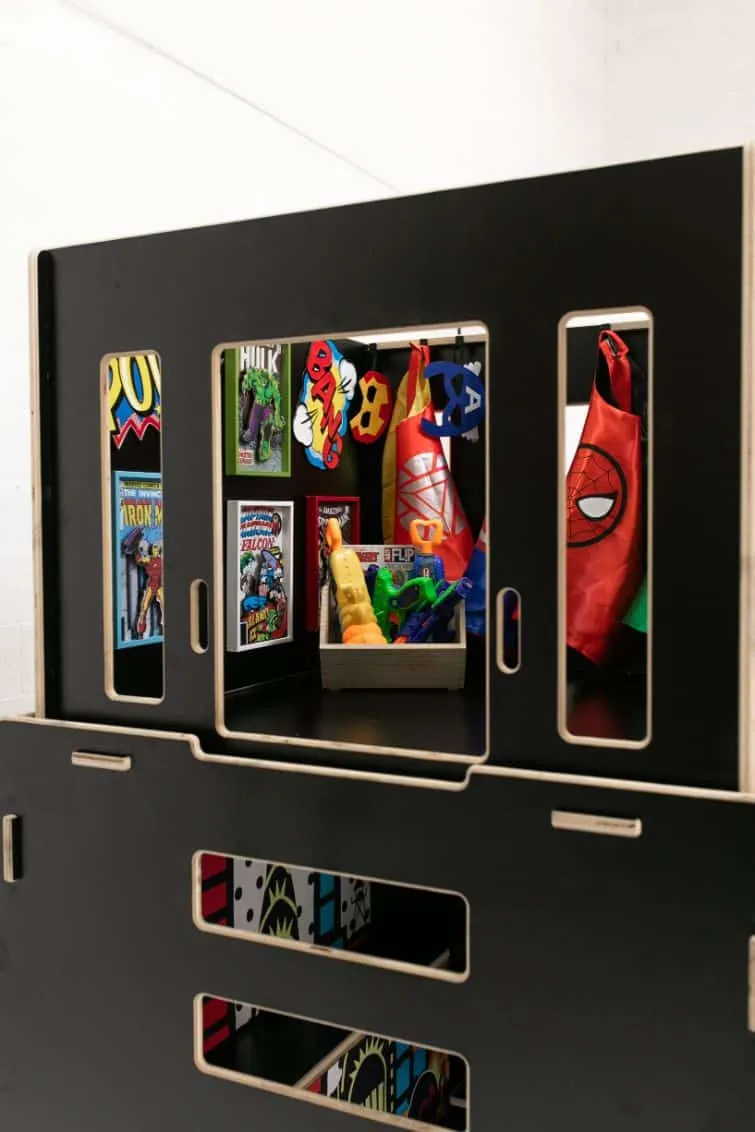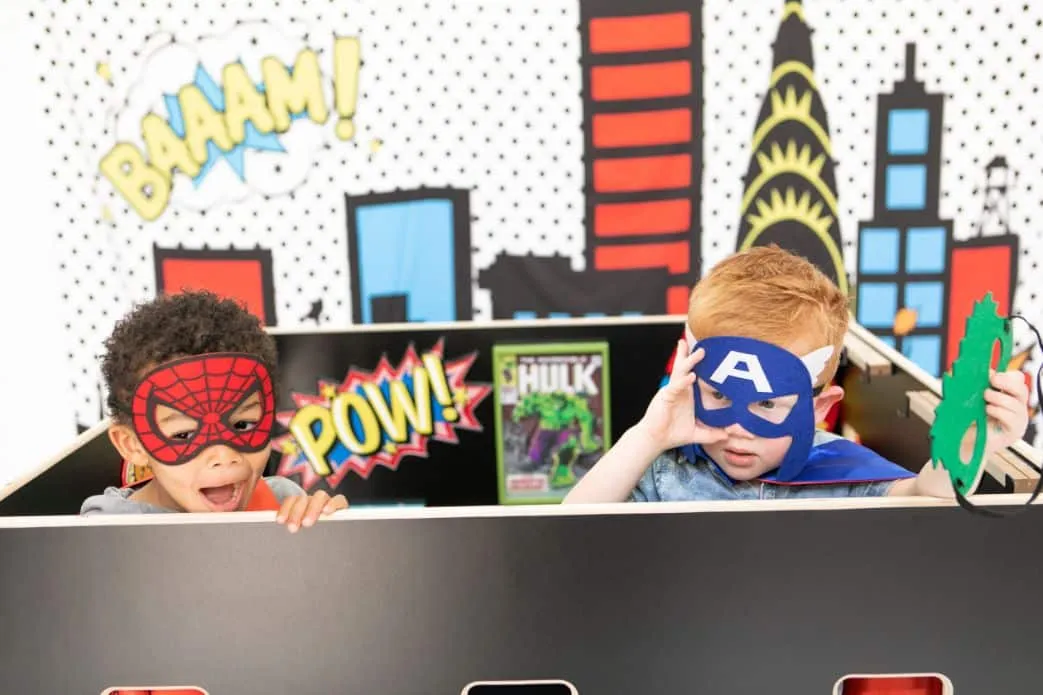 Dimensions
47" W x 47 1/2" D x 72" H
Fully painted and decorated photos are for display only to showcase our playhouses and the endless options available for you.
Click below to learn more!
Let us help you customize the perfect theme for your little ones playhouse.
Adjust the shelving on the back wall to fit your favorite kitchen inside, add a color to the awning, wallpaper the inside, adding a theme title to the front of the cafe are some popular examples of customizing your playhouse.
*Note we do not change or alter our original design of the playhouse it's self at this time.
Fill out our design form with a detailed quote. Please be sure to add specific details on what you would like while filling it out.
A café, flower shop, tea house, sugar shack, surf shack, mermaid cove, superhero hideout, workshop, and a doctors office are just some theme ideas we have created.
Dimensions
47" W x 47 1/2" D x 72" H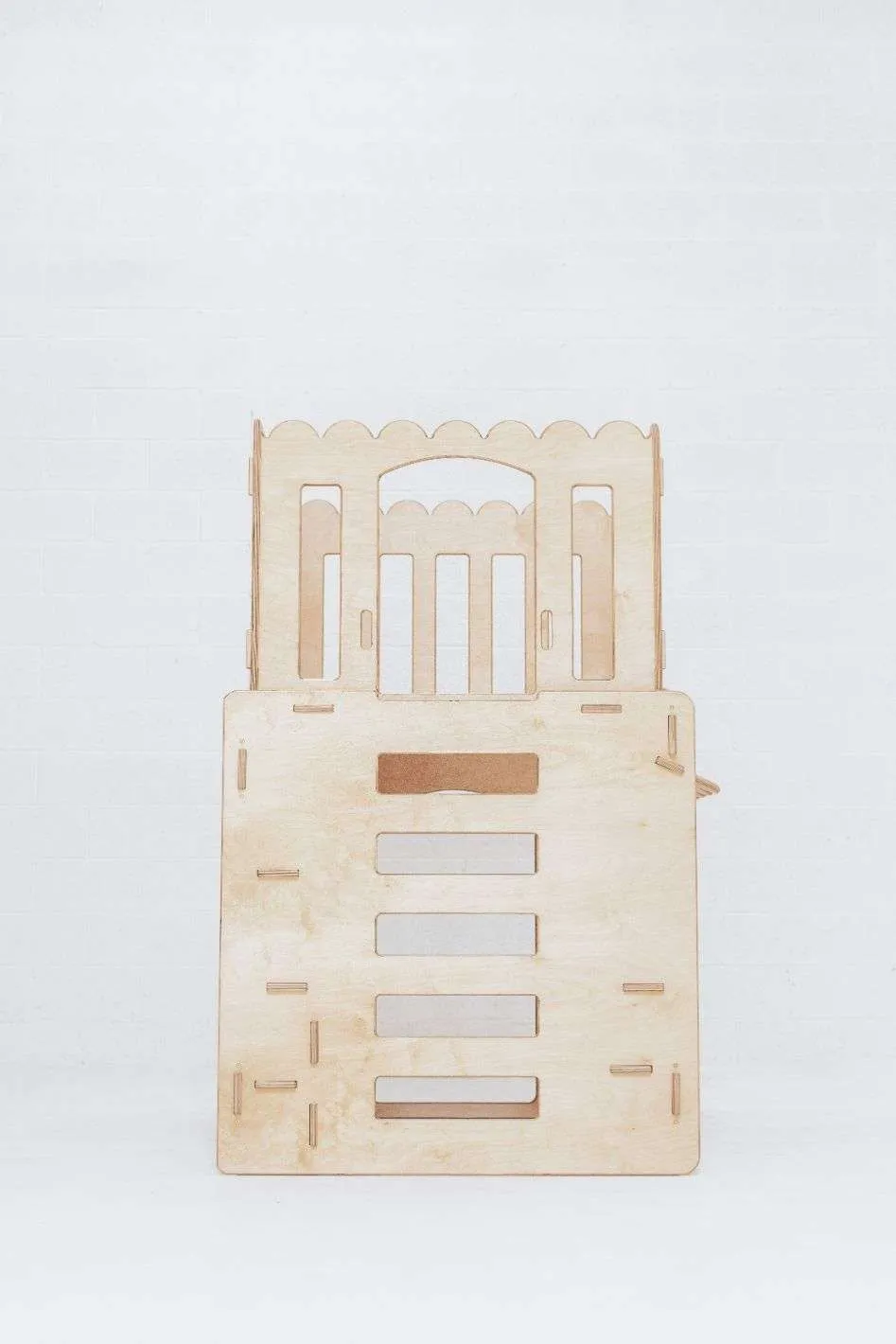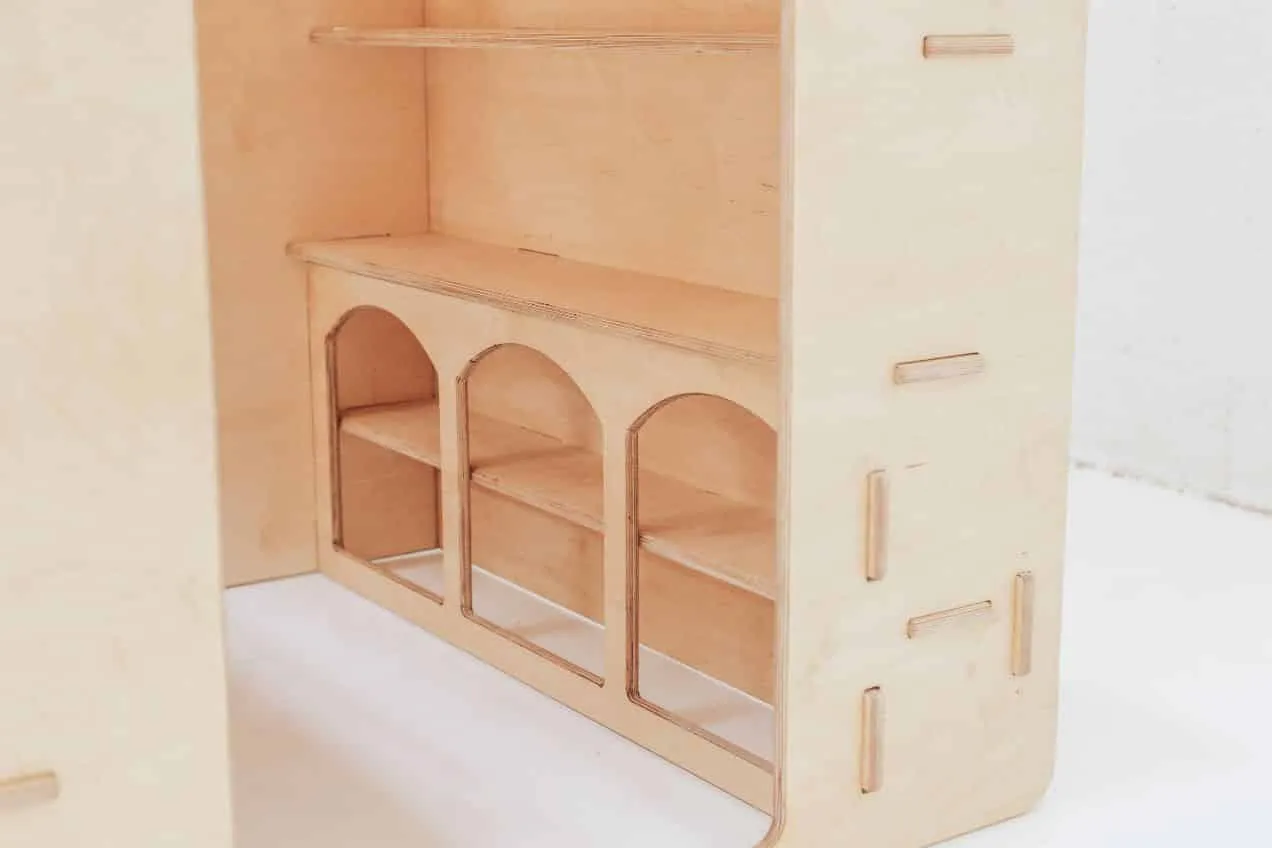 "To say we are obsessed would be an understatement! We ordered the hideout for our boys and took advantage of the designs team skill to turn it onto a super hero fort and we all love it! I was going crazy trying to entertain my kids inside in this AZ heat and this did the trick. Their imaginations go wild in this little playhouse and it is the cutest thing to watch. I love that it not only entertains them but is so eye appealing and the black that we chose goes great with the mid century vibe I have going on in the rest of the house. I wish I was the person that liked their home looking like Ronald McDonalds fun house but I am who I am! This play house is beautiful and just want we all needed. I already have my eyes set on the cafe for my little girl for another area of our home!
Thank you Rise Up Designz!"
"After months of looking into various playhouses and trying to find the right one we stumbled across Rise Up Designz.  We knew the moment we saw their product this would be the house for our precious littlest miss.  We purchased the playhouse in the white melamine with natural wood edging.  It was even more beautiful in person, and without compromising on such tremendous quality and craftsmanship.  We decided to decorate our own and as soon as we got it together, which was so incredibly easy, the ideas started to swirl and we settled on making our girl a tea house.  After adding our style our girly was ready to play.  She loves the loft area to read books and plays tea shop with us every single day.  What's even better is this playhouse provides lots of fun and imagination not only for our 3 1/2 year old but our 12 year old missy who loves to play with her baby sister.  I highly recommend this playhouse, it is high quality, super adorable, and so much fun to decorate and then change as often as you like, the possibilities are endless.  Very thankful to own a Rise Up Designz playhouse."